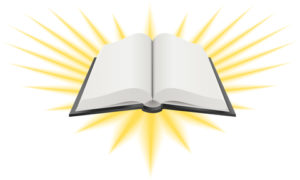 Have you ever read the Bible from cover to cover? If so, you are one of very few to ever do this! My Chronological Bible Reading Guide enhances your reading by following biblical events as they happened in time.
Subscribe to my free Bible reading guide now
If you have thought about reading through the Bible, but you:
didn't think you had the time
didn't think you were disciplined enough
didn't know what plan to use
didn't think you would understand all of it
didn't get started on January 1
Start at any time – the plan is labeled by weeks, not specific dates:
Each week's readings sent by FREE automated email delivery
Take as long as you like – keep your readings in a folder
This is easy and complete –  all you need is your Bible
It takes only 10 to 12 minutes a day (or less) for an average reader to get through all of God's word in a year!
Every chapter of God's word in 66 books is included here. God preserved the whole Bible, not just a few favorite books or verses.
Reading straight through the Bible, cover-to-cover gives a mixed view of the timeline of biblical events. It's like starting to read a book, then jumping around. Chronological Bible Reading Guide presents a plan to follow events as they happened in time.
We get to know people by what they say, and we get to know God by what He says. God preserved His whole counsel for us so we could know Him better. God's word is profitable for us. It teaches us, it helps us know what is right and wrong, and so it helps us to live right. And most of all it helps us to learn to know God better (1 Timothy 3:16, Ephesians 1:17).
Reading the Bible develops real faith; faith comes by hearing (and by reading) the word of God (Romans 10:17).
Subscribe to my free Bible reading guide now
Maybe you already have a chronological plan: examine:
Book by book is not chronological!
Straight through every book is not chronological! The chapters in some books are mixed up. If a plan goes straight through Jeremiah from chapter 1 to 52, it is not chronological!
This plan is chronological chapter by chapter, not tedious like a few verses here and a few verses there.
Poetry, prophecy and epistles are intertwined with history to help understand some difficult portions.  For example, I like to see Lamentations 3 after Jeremiah 38 and Psalm 137 after a chapter like 2 Kings 24.
And the discipline?
It is in your inbox each week with 7 days of readings listed.
Add to your historical understanding.
A sense of accomplishment is yours when you read through the entire Bible.
For a sneak peak, a week's readings with endnotes from the automated email delivery program are included below.
Subscribe here to my FREE reading guide.
I offer my work, my love and my prayers to each of you!
Email addresses will not be seen or used elsewhere.
(Or if you prefer you can get the guide [with less extra notes] in a single Kindle ebook version or ePub ebook version (e.g. Nook, etc.).
A SNEAK PEAK: THE CHRONOLOGY FOR ONE WEEK (EMAIL):
Week 29 Daily Bible Readings
 Day 1
2 Kings 18
Psalms 82, 94
Day 2
Isaiah 29-31[1]
Day 3
Isaiah 32-35[2]
Day 4
Isaiah 36
Psalm 77
Isaiah 37
Day 5
2 Kings 19[3]
Hezekiah with Assyrian letter: 701 BC
Psalms 120, 129, 88
Day 6
2 Chronicles 32[4]
Psalm 76
Isaiah 38
Psalm 121
Isaiah 39
Day 7          
2 Kings 20
Hezekiah's illness and recovery
Isaiah 40-41
The grass withers, the flowers fade, but the word of our God remains forever. Isaiah 40:8
Notes
[1] Many prophecies were about the heathen nations, but God also rebuked His own people who were idolatrous, honored Him only with their lips, and made up their own rules. The people accused Isaiah of being unpatriotic when he rebuked their sinfulness. Doesn't that sound like protesters of today! (Information from Ellicott's Commentary on the Whole Bible, Volume 4).
[2] The "destroyer" (33:1) was Sennacherib when he attacked after Hezekiah had given much to prevent an attack (2 Kings 18:13-16), but then Sennacherib broke the treaty (33:8). Isaiah prophesied that as Sennacherib brought terror, he would be terrorized (2 Kings 19:27-28), and God would give the victory. The known officials of an opposing army (33:18) were: the scribe, accountant or chief officer who calculated the amount of the tribute due from each person or town; the receiver or tribute collector who checked and weighed the payments; and the one who counted towers (or spied out defenses) who planned the siege operation (information from Ellicott).
[3] Hezekiah was definitely stressed. Perhaps he read and quoted from a Psalm of David: "God, hear my voice when I complain. Protect my life from the terror of the enemy…God will shoot them with arrows; suddenly, they will be wounded…The righteous one rejoices in the Lord and takes refuge in Him; all those who are upright in heart will offer praise" (Psalm 64:1,7,10).
[4] Before Sennacherib laid siege to cities in Judah, Hezekiah saw Assyria coming closer, and chiseled a tunnel (v. 30) through solid rock in a winding path for 1,680 feet from the Gihon spring to a pool in Jerusalem. A 15 by 30 inch Hebrew inscription from Hezekiah's time (2 Kings 20:20) tells of the many engineering calculations. Workmen cut rock with picks from each end until they met in the middle. Several years later when Sennacherib invaded Judah, Hezekiah knew the need for water, and since the tunnel delivered water to Jerusalem, he closed off access to the spring outside the city (v. 4) (information from Andrew C. Bowling, expositor for Kings in the Holman Christian Standard Bible, and The World of the Bible, Volumes 2 and 4).
For correlations between individual Psalms and contemporary events, see http://chronobibleguide.com/psalm-correlations/
A list of the kings of Judah and Israel can be seen at http://chronobibleguide.com/kings-of-the-divided-kingdom/