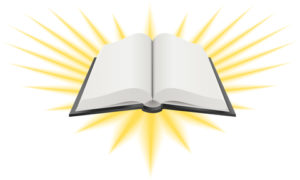 Have you ever read the Bible from cover to cover? If so, you are one of very few to ever do this! My Chronological Bible Reading Guide enhances your reading by following biblical events as they happened in time.
Subscribe to my free Bible reading guide now
Start at any time – the plan is labeled by weeks and days, not specific dates:
Each week's readings are sent by FREE automated email delivery
Take as long as you like – keep your readings in a folder
This is easy and complete –  all you need is your Bible
It takes only 10 to 12 minutes a day (or less) for an average reader to get through all of God's word in a year!
Every chapter of God's word in 66 books is included here. God preserved the whole Bible, not just a few favorite books or verses.
Reading straight through the Bible, cover-to-cover gives a mixed view of the timeline of biblical events. It's like starting to read a book, then jumping around. Chronological Bible Reading Guide presents a plan to follow events as they happened in time. Below is a sneak peak of one week's readings.
If you have thought about reading through the Bible, but you:
didn't think you had the time
didn't think you were disciplined enough
didn't know what plan to use
didn't think you would understand all of it
didn't get started on January 1:
Start at any time – the plan is labeled by weeks and days, not specific dates.
We get to know people by what they say, and we get to know God by what He says. God preserved His whole counsel for us so we could know Him better. God's word is profitable for us. It teaches us, it helps us know what is right and wrong, and so it helps us to live right. And most of all it helps us to learn to know God better (1 Timothy 3:16, Ephesians 1:17).
Reading the Bible develops real faith; faith comes by hearing (and by reading) the word of God (Romans 10:17).
Subscribe to my free Bible reading guide now
Maybe you already have a chronological plan: examine:
Book by book is not chronological!
Straight through every book is not chronological! The chapters in some books are mixed up. If a plan goes straight through Jeremiah from chapter 1 to 52, it is not chronological!
This plan is chronological chapter by chapter, not tedious like a few verses here and a few verses there.
Poetry, prophecy and epistles are intertwined with history to help understand some difficult portions.  For example, I like to see Lamentations 3 after Jeremiah 38 and Psalm 137 after a chapter like 2 Kings 24.
And the discipline?
It is in your inbox each week with 7 days of readings listed.
Add to your historical understanding.
A sense of accomplishment is yours when you read through the entire Bible.
For a sneak peak, a week's readings with endnotes from the automated email delivery program are included below.
Subscribe here to my FREE reading guide.
I offer my work, my love and my prayers to each of you!
Email addresses will not be seen or used elsewhere.
A SNEAK PEAK: THE CHRONOLOGY FOR ONE WEEK (EMAIL):
Week 26 Daily Bible Readings

Day 1
2 Chronicles 23-24
   Joash's reign in Judah: 835-796 BC
2 Kings 12
 
Day 2
2 Kings 13
2 Chronicles 25
   Amaziah's reign in Judah: 796-767 BC

Day 3
2 Kings 14
   Jeroboam II's reign in Israel: 793-753 BC
Jonah 1-2[1]
   Jonah: c.781 BC
Psalm 116

Day 4
Jonah 3-4[2]
2 Chronicles 26​[3]
   Uzziah (Azariah)'s reign in Judah: 792-740 BC  
Amos 1-2[4]
   Amos' prophecy: c.765-754 BC

Day 5
Amos 3-6[5]

Day 6
Amos 7-9[6]
Hosea 1-2
   Hosea's prophecy: c.758-725 BC

Day 7 
2 Kings 15
   Chapter events: 792-735 BC
Isaiah 1-2[7]
   Isaiah's prophecy: c.740-698 BC

I called to the Lord in my distress, and He answered me. I cried out for help…You heard my voice. Jonah 2:2

Notes

[1] Nineveh was the capital city of the world empire of Assyria, which was at its peak of power at this time, destroying the Northern Kingdom of Israel. Then Jonah heard God call him to offer God's mercy and prolong the life of this cruel and torturous enemy in the far northeast. Tarshish is thought to be in the far southwest part of Spain. Joppa was an important port with busy merchants and craftsmen. Phoenician sailors traded between Egypt and Spain, and may have used ships with both sails and fifty or sixty rowers. (information from Joe Sprinkle, expositor for Jonah in the Holman Christian Standard Bible; Halley's Bible Handbook; J. Vernon McGee of Thru the Bible, ttb.org; Ellicott's Commentary on the Whole Bible, Volume 5; and The World of the Bible, Volume 3). 

[2] Nineveh was over 500 miles northeast of Caanan, and the route Jonah may have needed to take would have been a journey of close to 600 miles. It would have taken how long to get there? The city was protected with walls 100 feet high and wide enough at the top for four chariots riding side by side. A three-day's journey suggests the city and its villages might have had a circumference of about 60 miles (assuming 18 to 23 miles was a day's journey). Sometimes forty days referred to a period of testing or judgment such as the 40 days of land survey, when the Israelites rejected entering Canaan (Numbers 14:34); the 40 days of Elijah's running from Ahab and Jezebel (I Kings 19); and the time of Jesus' temptations (Luke 4:2) (information from Sprinkle and Halley).

The cruel, warlike Assyrians of Nineveh did repent as Jesus reported (Matthew 12:39-41). It was about the time of Jonah's visit that the king took tribute from Israel, and Israel recovered lost territory. Jonah may have been instrumental in this (2 Kings 14:25), and evidently his influence on Nineveh was profound. Archeologists Rich, Botla and Layard discovered a "Jonah Mound" protected by local natives as sacred with no excavations allowed. Jonah's tomb could either be here, or at the traditional site at Gath-hepher. The number of 120,000 inhabitants not knowing left from right may refer to children, resulting in a population of 600,000 and up to a million. The term may also be an expression of immaturity, and of not being informed spiritually and morally (information from Sprinkle, Ellicott, Halley, and McGee).

[3] Uzziah (also called Azariah) co-reigned with his father Amaziah for 25 years, and then with his son Jotham after he became a leper. Some of Israel's kings who ruled at the same time as Uzziah and Jotham are mentioned in 2 Kings 15 (information from Andrew C. Bowling, expositor for Kings in the Holman Christian Standard Bible).

[4] Amos dated his writings as being two years before an earthquake, so his ministry may have been a short one. There are a couple of interpretations for God's statement "for three crimes, even four," which may be translated "for three crimes, and for another four." The number seven has been called God's number of completeness, and this would indicate that the nation's offenses had reached God's limit for required judgment. It could also mean "I'm counting to three–at four you have gone too far–you've stepped over the line (information from Duane A. Garrett, expositor for Amos in the Holman Christian Standard Bible; and McGee).

[5] God revealed future plans to His servants, the prophets (3:7). He gave advance notice to Noah about the flood, to Abram about Sodom and Gomorrah, to Joseph in Egypt, and to Elijah about three years of no rain. To his disciples (and to us believers) Jesus said, "…I have called you friends, because I have made known to you everything I have heard from My Father" (John 15:15) (ideas from NIV notes).  

[6] The total sun eclipse (8:9) was on June 15, 763 BC, and provides a fixed point for Old Testament chronology. Assyrian records list the eclipse on a clay tablet found at Nineveh (information from The World of the Bible, Volume 3). 

[7] One of the major themes of Isaiah is that human pride will be humbled. Isaiah's prophecy came to the people during the reigns of Uzziah and Jotham (chapters 1-6), Ahaz (chapters 7-14), and Hezekiah (beginning with chapter 15). In all of these there is a call for Judah and Israel to repent. In chapters 40-66 hope and consolation are given with God's promise of the Messiah and future blessings (information from Tremper Longman III, expositor for Isaiah in the Holman Christian Standard Bible).

A list of the kings of Judah and Israel can be seen at http://chronobibleguide.com/kings-of-the-divided-kingdom/